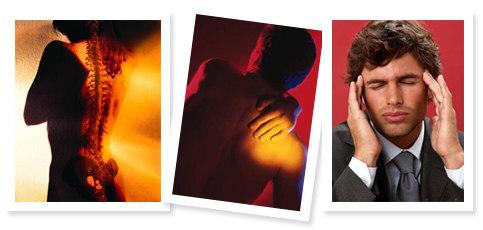 There is strong evidence for chiropractic treatment of back pain, neck pain, and headaches.
A growing body of scientific evidence supports chiropractic as the leader in safe, effective care for musculoskeletal conditions such as neck pain, back pain and headaches. Chiropractic has been shown to get results for these conditions, faster than medicine and with a higher degree of patient satisfaction and at a lower cost. There is also evidence that chiropractic can help patients with a variety of other conditions, such as asthma and scoliosis.
Manga P, Angus D, et al. The effectiveness and Cost-Effectiveness of Chiropractic Management of Low-Back Pain.
The Ontario Ministry of Health, Ottawa, Ontario, Canada, August 1993.
Comment: This intensive study of the efficacy and cost-effectiveness of chiropractic (initiated and funded by the Ontario Ministry of Health) found chiropractic to be cost-effective and more clinically effective than other accepted treatments of low-back pain.
"On the evidence, particularly the most scientifically valid clinical studies, spinal manipulation applied by chiropractors is shown to be more effective than alternative treatments for low back pain. Many medical therapies are of questionable validity or are clearly inadequate."
Low back pain is one of the most costly causes of disability and Worker's Compensation costs. The Manga report found chiropractic to be an effective cost saving that could ease the cost of the health care crisis in Canada.
"There is an overwhelming body of evidence indicating that chiropractic management of low-back pain is more cost-effective than medical management… The lack of any convincing argument or evidence to the contrary must be noted and is significant to us in forming our conclusions and recommendations. The evidence includes studies showing lower chiropractic costs for the same diagnosis and episodic need for care."
Chiropractic was also found to be safer than the medical alternative.
"There is no clinical or case-controlled study that demonstrates or even implies that chiropractic spinal manipulation is unsafe in the treatment of low-back pain. Some medical treatments are equally safe, but others are unsafe and generate iatrogenic (physician-induced) complications for low-back pain patients. Our reading of the literature suggests that chiropractic spinal manipulation is safer than medical management of low-back pain."
Chronic Spinal Pain: A Randomized Clinical Trial Comparing Medication, Acupuncture, and Spinal Manipulation
Spine 2003 (Jul 15); 28 (14): 1490–1502
Comment: This study found spinal manipulation, the primary treatment used by chiropractors to be the best overall for neck and back pain.